Desview T12 Teleprompter, 12.5 inch High Display Glass, Liftable Teleprompter with Remote Control, Metal Body, Compatible with DSLR/Camcorders/ipad, Easy Assembly with Carry Case for Video Making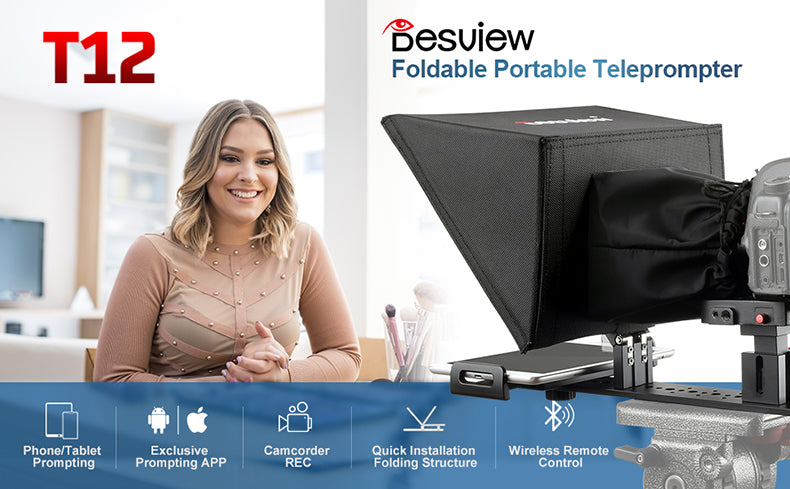 T12 teleprompter supports DSLR cameras recording vertically and horizontally and camcorders recording horizontally;
T12 teleprompter supports smartphones/tablets prompting under 11 inches;
 It is designed for content creators using a DSLR camera/camcorder to avoid NG and improve efficiency when making videos.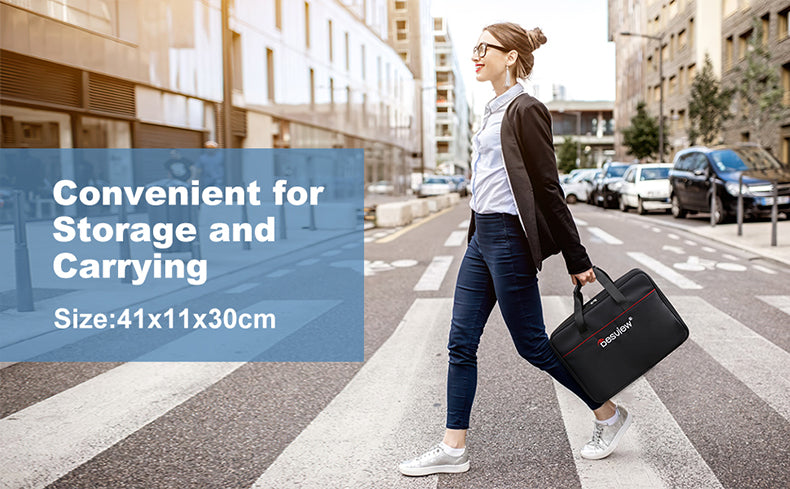 Portable aluminum case
Desview T12 teleprompter equipped with a high-quality aluminum case to protect the entire kit for outdoor transport.
Please note that the case is for teleprompter only, please try not to store other devices.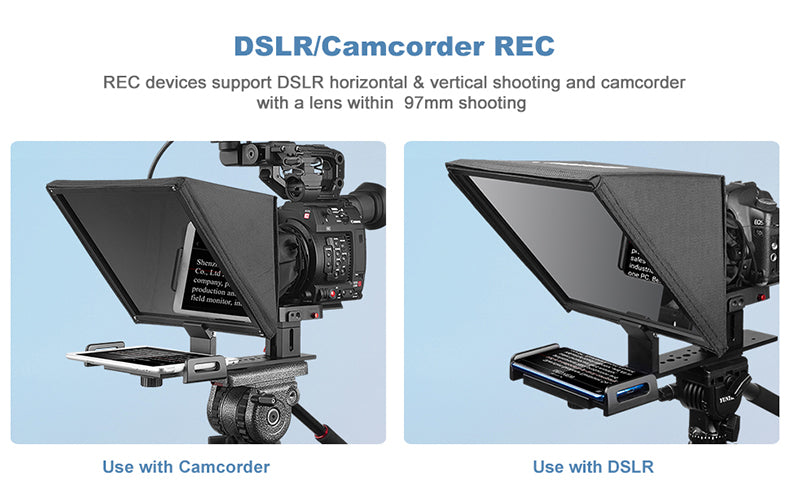 Professional Splitter Glass Teleprompter
70/30 Beam Splitter Glass with 26 Coated Layers Adopting premium Beam Splitter
Glass with multi-layer coating for no light loss, Desview T12 teleprompter kit gives highest definition prompting,
easy to read. 7H hardness and the lid of glass protect your teleprompters well during transport and storage.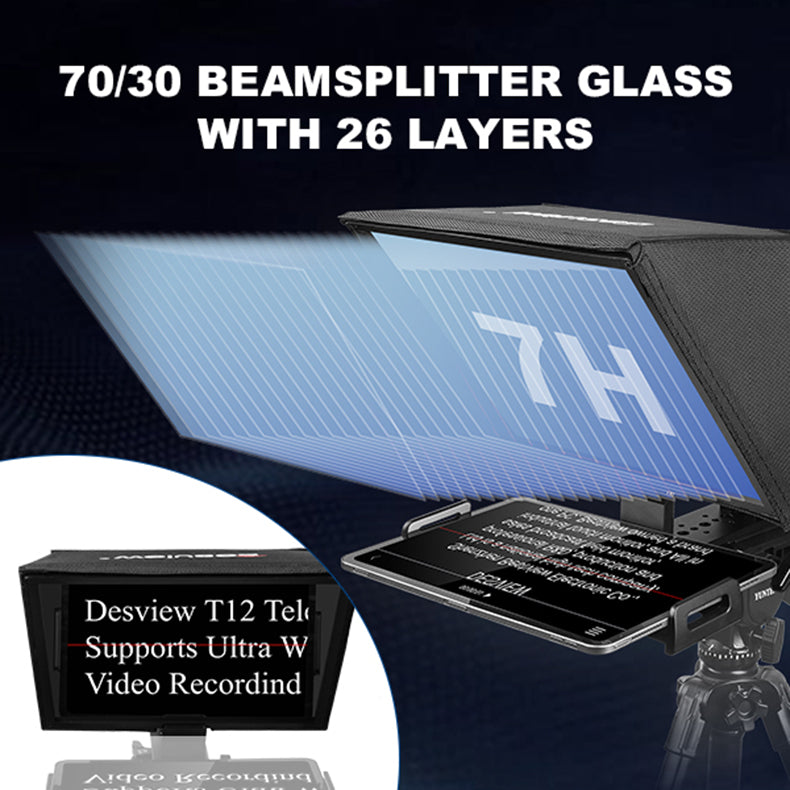 Wider Angle Bigger View
The teleprompter DSLR&Tablet prompting mode supports more than 24mm horizontal/ shooting and less than
35mm vertical shooting. Whether you look at the teleprompter from the front or the side, no vignetting or
any part of the teleprompter would appear within the frame.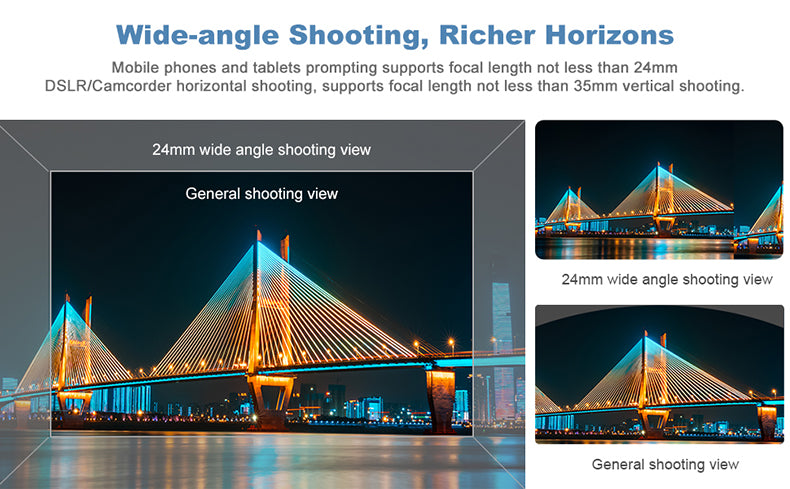 The Blue-tooth remote allows you to adjust Speed/Pause, Page up/down controls or change the text and
background color.

Bluetooth Remote Control
The teleprompter with remote control could scroll through the text and freely adjust Play/Pause, Slow down/
Speed up simultaneously. The free app BESTVIEW working with the remote controller is offered in app stores,
compatible with all Android & iOS devices.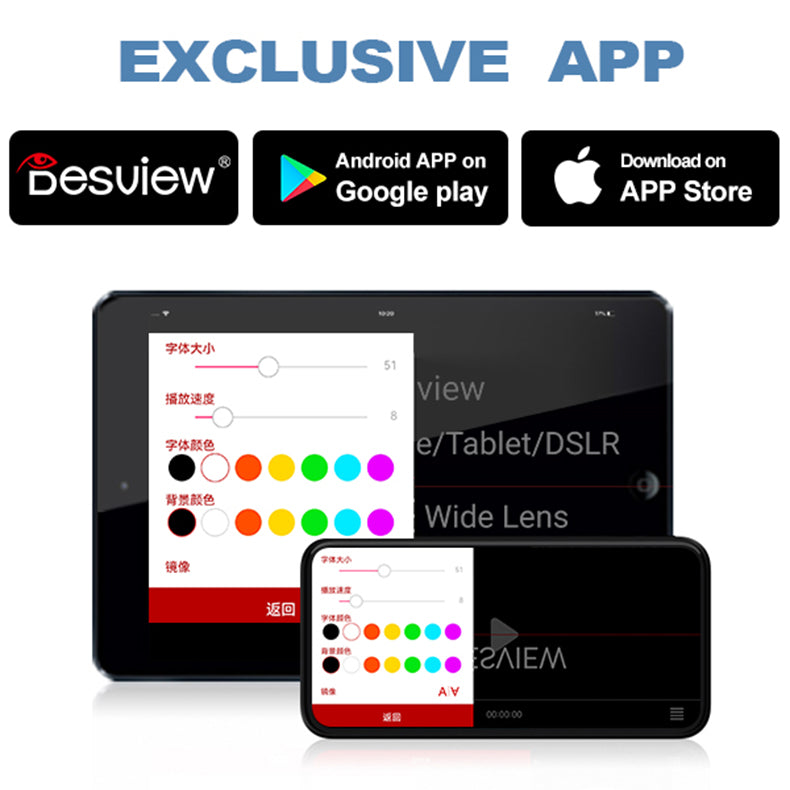 Package Include:
1x Portable Bag
1x Sun Hood
1x Lifting Mount
1x Main Body
1x User Guide
1x Remote Control
1x Cleaning Cloth
1x Vertical Shooting Bracket
1x Locking Bolt